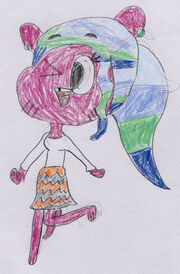 Dianne Clare Belcourt is married to Alec Belcourt . She is 3 years younger than Nicole Watterson. (34)
Apperance                                                                       Edit
She is a fuchsia colored cat with her hair in a ponytail with ice blue perrywinkle seafoam green and indigo colored hair and wears a grey and orange zigzag skirt, a white long-sleeved shirt, black eyes and wears seafoam green earings.    
Personality                                                                                                       Edit
She loves music and singing. She and Alec met at highschool and then got married at 25. She is part irish and part french. Dianne was not really popular in school. But she found Alec and he stuck up for her and then they became boyfriend and girlfriend in school. She loves her children. (Ajay Belcourt Lucienne Belcourt and Abbey Belcourt). Obviously, She loves Alec.   
Relatives                                                 Edit
. Lucienne Belcourt (daughter) 
. Abbey Belcourt (daughter) 
. Ajay Belcourt (adoptive son)
. Alec Belcourt (Husband) 
Place of origin and resident  Edit
Ireland (place of origin) Elmore (resident)   
Ad blocker interference detected!
Wikia is a free-to-use site that makes money from advertising. We have a modified experience for viewers using ad blockers

Wikia is not accessible if you've made further modifications. Remove the custom ad blocker rule(s) and the page will load as expected.