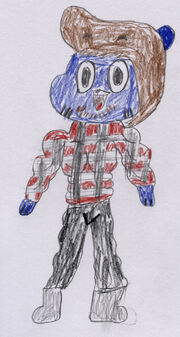 Alec Cameron Belcourt is married to Dianne Belcourt . He is 40 years old. 
Apperance    Edit
He is a indigo colored cat with brown 80s hair with black pants,grey boots,red plad shirt, a beard and he is very muscular.
Personality Edit
He is very strict to his children. He doesn't like the fact about Lucienne and Gumball are dating. He loves his children and Dianne. Lucienne does not really care about him.
Ad blocker interference detected!
Wikia is a free-to-use site that makes money from advertising. We have a modified experience for viewers using ad blockers

Wikia is not accessible if you've made further modifications. Remove the custom ad blocker rule(s) and the page will load as expected.